Article Page
Quirindi Rural Heritage Village miniature train track was completed and officially opened on May 3, 2008 with some 15 trains present and it was enthusiasticlly endorsed by a large crowd of drivers and train passengers.
At the annu alrally there are some 20 trains and their enthusiasts present with trains coming from Sydney, Edgeworth and Tamworth as well as locally. The 650 metre track has a small scale Sydney Harbour bridge, railway station and ticket office as well as electronic signalling. Improvements are being made all the time, with the latest projects being a waiting room and ticket office. A further 600 metres of track has been constructed, including a tunnel. Train running days are the fourth Sunday in the month, 10 am - 2 pm.
The venue is very popular for children's birthday parties, and they can be booked by contacting Roger Barwick on 67471264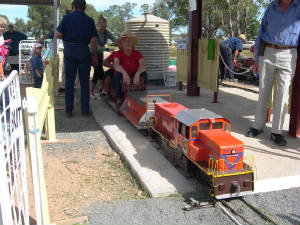 Trains waiting their turn on the track at Quirindi Rural Heritage Village with railway station in background.
If you are interested in miniature trains, why not come to Quirindi and see them in action!
For further information please contact John Maunder on 67461711 or Roger Barwick on 67471264
VILLAGE WORKSHOP
The Village Workshop (Mens Shed) operates every Thursday, starting at 9.30 am. Activities include woodwork, metalwork, leatherwork, miniature train construction and maintenance of village exhibits. Even if you would just like a yarn and a cuppa tea men are invited come out on a Thursday morning.